September 16 was a beautiful day for picking blueberries for Chisasibi's 16th annual Musuutaau (blueberry festival). The event attracted many participants this year, with especially delicious results at the following day's baking contest.
A total of 163.6 pounds were picked, including 20 pounds that participants donated to local hospital patients, the multi-service day centre and Community Miyupimaatisiiun Centre. An auction of blueberries through social media raised $656 for the school breakfast program.
"There was a good amount of people, but they didn't collect as much as they [normally] would," said Reggie Tomatuk, the event's long-time organizer. "The most we picked in one year was over 750 pounds and one lady picked 25 pounds by herself. The whole intention is for people to go out, families and friends."
This summer's unprecedented wildfires, dry conditions and a hot September that delayed the season's first frost combined to limit the region's blueberry harvest. Fred Tomatuk, chairperson of the Eeyou Marine Region Wildlife Board, told the Nation that Eastmain's fires forced him to buy blueberries in Val-d'Or at $85 a basket, whereas he could regularly get three or four times that much going up the road.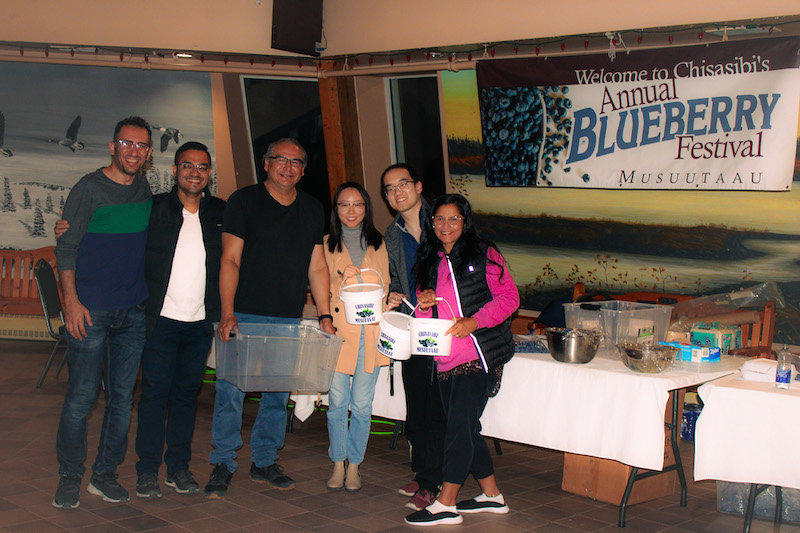 Despite the relative scarcity, blueberry fans of all ages enjoyed the sunny day of picking. The youngest was one year old and put more berries in his mouth than the bucket. Encouraging this type of physical activity and nutritious eating is part of the mission for Reggie Tomatuk, whose day job is with the Cree Health Board.
"It's important to be outside to stay healthy," asserted Tomatuk. "We know the berries are antioxidant. Diabetes is very common in Eeyou Istchee – I think it's one out of four. Those who are diabetic can't eat much sugar, so the main guideline of baking is to be diabetes friendly.
There were about 75 entries in the six categories of baked goods, including a new international foods category in recognition of Chisasibi's growing multicultural community. Janie Bearskin won in both traditional food categories, beating out some interesting recipes inspired by distant homelands, such as a spicy french-fry concoction.
With generous monetary prizes provided by sponsor Brighter Futures, Arianne LeBel won the prestigious award for best blueberry pie in town while Jennilee Salt won best cake and Hepzibeth Lee won best variety cake. Ella Augot enhanced her award-winning jam with chia seeds, which she said helped improve its consistency.
"It's an honour to know my jam was appreciated by the community members," Augot told the Nation. "It's a very fun festival and I look forward to it every year. You can see how important it is here."
Augot moved to Chisasibi five years ago with her mother, who had fond memories of picking berries as a girl in Finland. They were happy to reconnect with the land in this way in Eeyou Istchee, even though it wasn't initially easy to find a good blueberry patch.
"The first year I was asking where can you find the blueberries and nobody will tell you exactly," said Augot. "It's important to go on the land to find your secret spot where you can go every year. This year our usual spot wasn't very good. but it was still fun."
In the various picking categories for singles, the winners were Billie Foucault, Amber Georgekish and Lorna Spencer. In the couples' categories, Arianne LeBel and Emile Crepeau-Gendron won Uschiniichisuu while Lily Salt and Helen Napash won Chishaayiyuu.
Contestants for the baking categories were encouraged to "share the culinary magic with others" by making a little extra for everyone to sample and including their recipes in the local newsletter. When presenting their dishes to the judges, Tomatuk said they have to describe and defend their entries.
"They have to show how they did it or what they prepared it with," explained Tomatuk. "The judges have criteria they follow. If the contestant has a recipe, they get points. Does it look good or sloppy, is it decorative, did they add leaves? Creativity counts."
As judging the numerous items took a long time, Tomatuk suggested next year dividing them in two. He hadn't heard about any digestive problems related to judges Margaret Wadden, Irene Bearskin House, Bianca Drouin, Roger Fournier, Valerie Sam, Raymond Sealhunter and Margaret Pachano eating so many blueberries.
"I was looking forward to the traditional recipes people make with goose or bear liver mixed with berries," said Bearskin House. "It's really something. A lady had berries in a fish casserole that almost reminded me of our fish berry salad we make. It brings back that history of berry picking here."
Bearskin House remembers tagging along with her grandmothers as a young girl, as they paddled off Fort George Island to locations where berries could be found. Not only blueberries, but cranberries, otter berries, gooseberries, crowberries and others known only by their Cree names.
"When we were still nomadic, spending a lot of time on the land, that's what we would harvest every summer and into the fall," recalled Bearskin House. "I love cloudberries, that look like a little cloud and grow near some marsh lands. The blackberries usually grow closer to the big body of water."
Many of these berries have distinct medicinal benefits and some can only be consumed after special preparation. About 10 years ago, Bearskin House discovered that blackberries could relieve heaviness in the mind. She never takes headache medication; preferring acupressure and nature's remedies found in berries or fish.
Blueberries have long been an important food source for Indigenous peoples. They keep longer in storage than other berries, can help preserve meats, and the roots can be boiled to relieve postnatal pains. Some First Nations called them star berries, believing the Creator marked their bottoms with stars so they wouldn't forget where they came from.
Tomatuk hopes to partner with other entities to eventually expand Musuutaau to a week-long festival, like one in Umiujaq, Nunavik. Bearskin House begins each gathering with a small prayer acknowledging the medicine in these berries and their powerful role in connecting people to the earth.
"When you get people to do the things they love to do in their cultures, they feel that excitement and there's a lot of laughter," said Bearskin House. "When people do that, it continues, like they're empowered, and they take ownership of that activity."
By Patrick Quinn, Local Journalism Initiative Reporter