The Montreal International Auto Show at Palais des Congrès exhibited some stunning new 2020 production-ready models and futuristic concepts January 17-26. It was refreshing to see a wide range of fully electric and plug-in-electric models from the luxury and non-luxury segments.
The EV market is still in its infancy, but most auto-makers are sprinting to add new models into their lineup with improved technology and an attractive price tags. Popular brands from Asia, North America and Europe hosted their debut events and displayed new models.
Ford launched its game changer Mustang Mach-E at the event. This fully electric crossover has an impressive power output ranging from 255 to 459 horsepower. Ford claims that this SUV will have a driving range from anywhere between 336 and 480 kms. The design is sleek and sporty with a very aggressive front fascia and bold body lines. The LED lights and rear tail gate are designed with a lot of attention. With a reliable quality and acceptable warranty, the Mustang Mach-E could compete with the Tesla Model 3 and the Mercedes EQC.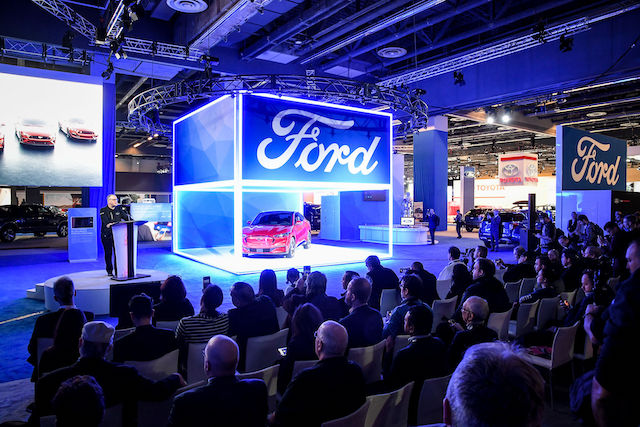 The mid-size Ford Energi plug-in hybrid electric vehicle (PHEV), baseline priced at $30,000, comes with a 40 km pure electric range. The compact size Focus Electric claims to have a range of 185 kms with a price tag of $34,998. The redesigned 2020 Ford Escape PHEV plug-in hybrid looks much sharper than their 2019 model and has an electric range of 48 km. It can be fully charged in about 3.5 hours at a 240-volt charging station.
The 2021 Chevrolet Trailblazer appeared sportier with its contrasting roof colour. This subcompact-sized vehicle comes in 1.2 litre and 1.3 litre variants with each producing 137 and 155 horsepower output. The fully electric Chevrolet Bolt EV remains the same as its 2019 specifications except an increase in battery range from 383 to 417 km. The supercar 2020 Corvette has a 6.2 litre V8 engine and produces 490 hp.
The fully electric Hyundai 45 Concept hints at the future autonomous-driving cars and the Korean company's design trajectory. The stunning bold body lines and the polished look gives the sense of a new era design to customers. To back its self-driving claims, this vehicle is equipped with a hidden Camera Monitoring System to overcome the poor visibility from the cameras. It is to be seen how this system works in the harsh North American weather conditions. Interestingly, the front passenger seats can be rotated to face other passengers which would be useful during autonomous driving. This concept demonstrates Hyundai's vision and commitment to the future.
The urban car, 2020 Hyundai Venue has a new design style with contrasting roof-colour. It has a front-wheel drivetrain and a 1.6 litre four-cylinder engine. The IONIQ Electric Plus midsize plug-in-hybrid comes with a driving range of 46 km and is priced at $32,299. The small size Hyundai Kona Electric is a fully electric SUV has a 64 kWh battery with a range of 400 km and priced at $45,599.
Overall, Hyundai's lineup shows its aggressive competition in the North American market. From Kia, the new subcompact SUV 2021 Kia Seltos showed a turbocharged variant with a four-cylinder, 1.6 litre engine and all-wheel drive train. In Eco cars, the Niro PHEV and Optima PHEV were lined up with a range of 43 km and 47 km respectively.
The Genesis Mint Concept is charming with its luxurious interior and sporty exterior. This fully electric car has a driving range of 320 km. Instead of the conventional trunk door, this car has two small rear doors that can be opened from both sides to access the cargo space. We must wait and see if the Korean carmaker will seriously go ahead with the production of this two-seater car, but we can expect some of the design elements on other models in the near future.
In the Japanese segment, the compact sedan Honda Insight was elegant and fairly priced. This hybrid car produces 151 horsepower and has an electric motor and a gas engine which mainly acts as a generator. At the base price of $28,490, Honda's known reliability at an affordable price point will catch consumer attention. Toyota's plug-in hybrid Prius Prime appeared this year without much changes in the specs. Toyota's SUV category, the fourth generation 2020 Highlander claims car-like handling characteristics. This Hybrid SUV is equipped with a V6 engine producing 296 horsepower and has a towing capacity of 2,268 kilograms. The rugged looking Toyota 4 Runner off-roader is equipped with a V6 engine, safety systems and connected services. The centre display of this SUV is now compatible with Apple CarPlay and Android auto.
Nissan showcased its GT-R limited-edition variant priced at $138,998. This high-performance sports car offers a V6, 3.8 litre twin-turbo engine and can produce 565 horsepower. Fully electric, the 2020 Nissan Leaf remains a popular choice in Quebec. The fully electric Nissan Leaf S Plus has a 62 kWh battery and claims to have a range of 363 km with 214 horsepower. It is priced at $44,898.
Mitsubishi premiered the Mirage hatchback in the small car segment with a 1.2 litre three-cylinder engine under the hood. It is known for its ultra-low pricing with a base price of $10,998 and unbeatable warranty. The front fascia shares the same design elements as rest of the Mitsubishi lineup. The 2020 Outlander plug-in hybrid get some minor updates from the previous year model. Subaru Crosstrek launched its plug-in hybrid SUV with an electric range of 30 km.
Volkswagen launched the 2020 Atlas Cross Sport with a turbocharged 2 litre four-cylinder engine and a 3.6 litre V6 variant. This five-seater is slightly shorter than the regular Atlas and has an all-wheel drivetrain for all trims. The fully electric Volkswagen e-Golf has an estimated range of up to 198 km. The base price starts at $37,895 with an option for customizable digital display and driver assistance package at an extra $4,750. The electric version of the Mini Cooper will hit the showroom this year with a starting price of $42,736.
With the rising demand for utility vehicles, the new generation 2020 BMW X5 M comes as a high-performance SUV with 591 horsepower and can hit 0-100km/h in just 3.9 seconds. In the electric category, the small BMW i3 and the plug-in hybrid i8 displayed with no major updates. The electric hybrid i8 Roadster is equipped with a turbocharged three-cylinder engine and works along with the electric motor to produce 369 hp and can dash from 0-100km/h in just 4.3 seconds. On a full battery charge, it has a driving range of 55 km.
The first fully electric Mercedes EQC runs on two electric motors with an all-wheel drive train and will produce a 402 hp. It claims to have a driving range of 450 km with a starting price of $61,200 and could compete with Tesla and Ford Mach E. The GLC 350e is fitted with a 2.0 litre turbo engine and a 90 kW electric motor will give an exceptional 315 hp combined and rushes from 0-100/km in just 5.7 seconds. It has a starting price of $61,450. Audi's fully electric e-tron SUV has a 95 kWh battery under the hood. The electric powertrain can produce 355 horsepower and cover a range of 329 km. It has a base price base of $90,000.
The legendary Land Rover Defender SUV is now available for Canadians. Known for its superb off-road capabilities, this Canadian version is sold as a five-door vehicle with a turbo charged four cylinder or supercharged V6. The 2020 Porche Taycan turbo, the fully electric sports car was stunning with an output ranging from 563 to 750 hp depending on the trim level. It has an impressive driving range between 407 to 463 km. The Taycan Turbo S comes with a price tag of $213,900.
In the truck world, Ford officially announced its upcoming fully electric F-150. The gas version F-150 supercrew has a rugged front fascia and has a 4X4 powertrain with 3.5 litre V6 engine. The super duty Ford F-250 is more muscular and features a 7.3 litre V8 diesel engine with a tough frame. The 2020 Toyota Tundra comes with V8 engine and produces 381 horses. Customers can also choose the sports premium package for extra comfort and technology. It has a new multimedia system and connected services from Toyota.
Among the supercars, the $3 million Italian Pagani Huayra BC Roadster has a 7.3 litre V12 engine and produces 764 horsepower. It can dash from 0-60 mph in 2.9 seconds and can hit a top speed of 337 km/h. McLaren and Lamborghini also showcased some of their latest models.
The presence of the Quebec Environment Ministry in the inaugural press function ensured strong support for eco-friendly initiatives in the province. The new federal and provincial government incentives are boosting EV vehicles sales across Canada. Consumers finally have the liberty to choose electric vehicles at an affordable price against similar gas variants. In the coming years, advanced EV technology, attractive pricing, more incentives and infrastructure could bring a rapid shift in the customer mindset.