While the youth population may be booming in Eeyou Istchee, some may forget that the number of Elders is growing as well. In the past, clinics employed a couple of nurses and offered limited medical supplies. Doctors visited every now and then in the 1960s and 1970s.
With the signing of the 1975 James Bay and Northern Quebec Agreement, the Cree began taking charge of their health services – with real budgets to offer real health care. This led to a marked increase in life expectancy. But even today there still are needs that are not being met. The construction of a new Elders' home in Chisasibi, one of three planned for Eeyou Istchee, will begin answering some of them.
The home will serve the communities of Chisasibi, Whapmagoostui and Wemindji with 32 beds, including one for palliative care. All bedrooms will have their own bathroom, while the facility will feature indoor and outdoor spaces designed for residents' benefits.
The groundbreaking ceremony took place June 6 in Chisasibi. On hand were Chisasibi Chief Daisy House, Cree Health Board Chair Bertie Wapachee, Quebec Indigenous Affairs Minister Ian Lafrenière, as well as the Minister Responsible for Seniors and Informal Caregivers, Marguerite Blais. Ungava MNA Denis Lamothe and Health Board Executive Director Daniel St-Amour rounded out the list of dignitaries.
Chief House said the community is grateful for the services that are becoming reality. In addition to the Elders' home, there is an 80-unit transit building for Cree Health Board employees, a future healing centre, and a birthing home.
"Respecting and caring for Kiniwaaphmaakinch [Elders] is one of the most important Cree customs that we are taught as Eeyouch," said House. "Providing Elders with a space where they are cared for – mentally, physically, emotionally and spiritually – is an act of community love."
Blais was all smiles at the event, and her excitement was contagious.
"We've been working very hard for years on this major project to build homes for seniors and adults with special needs," Blais said. "Our government has sought to develop a living environment that will be more home-like and provide human contact. There will be mobile beds that caregivers from the family or friends can use to stay overnight in the room with loved ones."
Lafrenière mentioned his promise to visit all 55 Indigenous communities in Quebec, saying that his visit to Chisasibi that day checked off one of those boxes.
"This represents a real gain in quality of life," Lafrenière said of the future Elders' home. "This is a project inspired by your culture and your identity, which will meet the needs of these three communities, their seniors and their families."
Lafrenière noted that the population of Eeyou Istchee is expected to reach 22,000 by 2031 with about 2,100 residents aged 65 or older – justifying the need for a facility that would assist not only in Elders' needs but to bring generations together in a culturally enriching manner.
Wapachee said that while there may have been disputes in the past between the Cree and Quebec it was a welcome experience to see both sides working to develop this project.
The Cree language would be used as much as possible in the new home, which would create an environment that reflects Cree cultural values, Wapachee noted.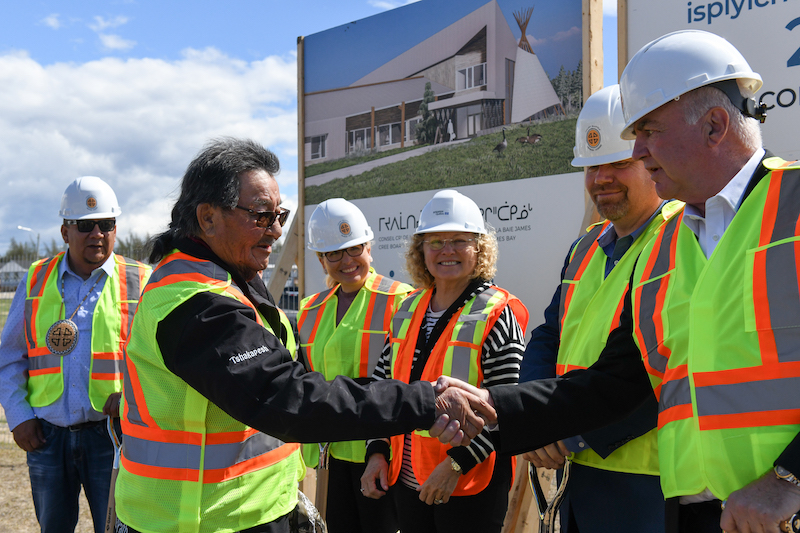 Asked when he thought he would be making use of the Elders' home, Wapachee chuckled and said, "I don't plan to retire until the end. That's the hope. If I do need it, I will make good use of it and move in with the rest of the Elders my age."
There will be two more Elders' homes in Eeyou Istchee, including one in Waskaganish (construction to begin this year) to serve Waskaganish, Eastmain and Nemaska. The other will be in Mistissini with a 2023 groundbreaking to serve Mistissini, Ouje-Bougoumou and Waswanipi.