It's just after midnight on the opening day of snow-crab season, which means it's time to go to work. The captains start up their boats, and head out from their home in Listuguj, Quebec, through Chaleur Bay, heading to the Gulf of St. Lawrence to catch crab and exercise their inherent rights.
This is the dramatic setting of Gespe'gewa'gi: The Last Land, a new 13-part documentary produced by Rezolution Pictures for APTN. The series introduces viewers to the crews of several fishing boats operated by members of the Mi'gmaq people of Listiguj, as well as the community and the history of the local fishery.
Viewers meet Captain Peter Martin of the Je'gopsn as he sets out on a nine-hour trip, reaching his destination north of PEI shortly after sunrise. There, crew members prepare to place their crab traps in the water. However, before they can get underway, there are mechanical issues. The boat must return to port for repairs.
The work is hard, relentless and dangerous. The crew is out for two days, barely sleeping. But their elation is tangible once they start bringing in the crab from the ocean bottom. Not only will they earn an income, the entire community also benefits. Viewers see just how tight-knit and supportive the community is of the fishery.
Viewers learn that the history of fishing in Listiguj is fraught with violence and challenges that the community members have had to overcome.
The series looks back to when Indigenous people there were not allowed to fish. Elders relate the stories of community members becoming more emboldened and assertive as they strike out to keep alive fishing traditions.
That all culminates in a violent police raid in 1981, when the Quebec government sent in the Sûreté du Québec to shut down the nascent salmon fishery. Several community members were injured, and others arrested.
But Quebec's plan backfires. Anticipating another raid, the community organized and set up blockades. The dispute is captured in Alanis Obomsawin's acclaimed 1984 documentary, Incident at Restigouche.
Eventually, the dispute ends up in court. An almost 20-year legal battle turned into a landmark decision for all Indigenous peoples, beginning when Donald Marshall was arrested for eel fishing.
Ending up in the Supreme Court of Canada, Marshall won his case, with the court recognizing the right of Indigenous fishers to a moderate livelihood. This is the start of commercial fisheries in Listiguj, and where the Gespe'gewa'gi story really begins.
Co-director and executive producer Ernest Webb, of Chisasibi, wanted to show viewers that, "We're all the same, we're all trying to make a living, put food on the table and raise our families, and these fisher people are taking advantage of a resource they have rights to."
Webb and his team initially travelled to Listuguj to meet some of the captains and community members and establish a relationship to make sure everyone would be comfortable filming in their homes, at their work, and on the boats. "I'm very thankful that the community members opened their hearts and lives to us," he said.
Coming from James Bay, Webb said he took for granted the ability to go hunting and fishing, and that for him it was exceptional to see how Listuguj had to fight against government repression to follow their traditions.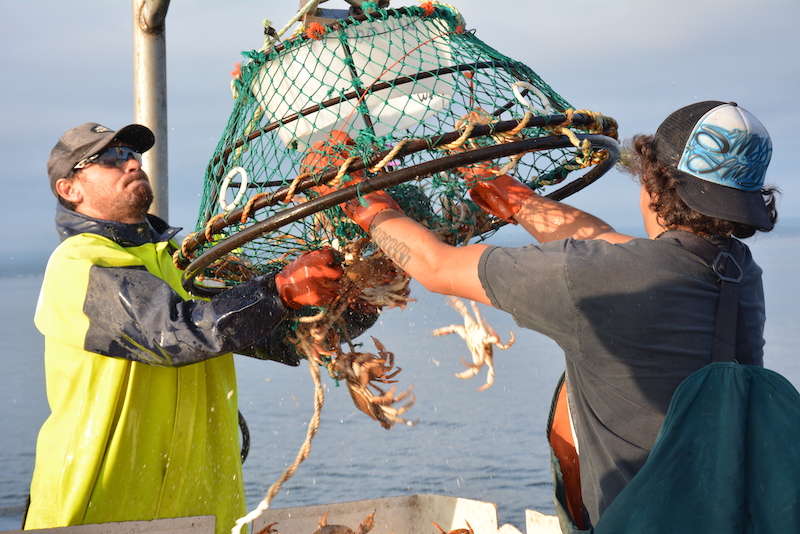 Webb said the series addresses issues happening across Canada, as communities push to make a living from their rights to harvest, despite the pushback from the government and non-Indigenous communities, as recently witnessed in Nova Scotia.
"Maybe their neighbours can see what they're trying to accomplish and see what they're trying to do not as a threat but as a kindred spirit and trying to do the same thing for their families."
Watch Gespe'gewa'gi: The Last Land on APTN or on its new online streaming service.
Photos by Lisa M. Roth