The sky may have been grey, but the streets were filled with smiles and rainbows for the parade that launched the very first Pride festival in Val-d'Or. An estimated 1,500 people participated in Fierté Val-d'Or May 17-19, which included a karaoke party, a community brunch and the largest drag queen show ever seen in the region.
This was the seventh year that the city's 2SLGBTQ+ community marched to commemorate the International Day Against Homophobia and Transphobia, led by the trailblazing efforts of Fierté Val-d'Or president Maryse Ouellet. This year the march was bigger than ever, with about 270 participants, and the celebrations continued throughout the weekend.
As a reminder that life is even more challenging for homosexual people of colour, every year during the march they take a moment to tell the story of Maurice Wabanonik, an Indigenous two-spirit man who was beaten and killed in 1998 because of his sexual orientation. Étienne Gignac, who works at the community's Native Friendship Centre and was one of the event's six organizers, was relieved that the revellers didn't encounter homophobic comments or behaviour over the weekend, even when they went to a straight bar after the drag show.
"This is important to us to remember that we've come far," Gignac said. "Often in rural communities like Val-d'Or, it's hard when you're not in the box, when you're different."
Originally from Matagami, Gignac knows how difficult it can be to come out of the closet in a small town. He believes that creating a greater range of inclusive events in northern Quebec would help more young people feel accepted in their communities instead of being forced to leave for Montreal or other big cities.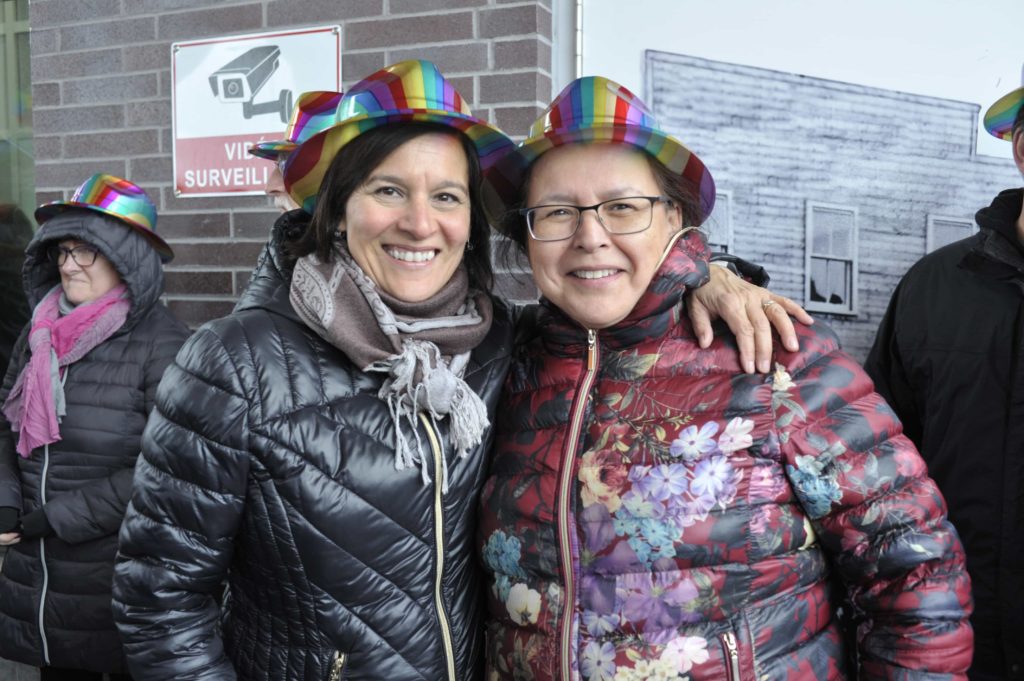 "I was happy to have around 70 Native people at the Pride. We had a lot of bi and lesbians coming from Cree communities who were so happy to have an event like this," Gignac said. "I think next year the Pride committee needs to send letters to Cree communities to invite them. For next year, we will try to have a bigger visibility for the Cree Nation."
A northern hub of activities and services, the city of 33,000 has a growing Indigenous population and attracts thousands of regular visitors from Eeyou Istchee and surrounding Algonquin communities every year. While intercultural relations are often harmonious, the recent Viens Commission into police misconduct against Indigenous women highlighted a long history of systemic racism in the area.
That's one reason that the organizing committee strove to ensure that Val-d'Or's Indigenous population was well represented throughout the festivities. To start the march, Chief Adrienne Jérôme from the nearby Lac Simon Anishnabe Nation said a prayer before passing a symbolic staff decorated with dream catchers and rainbows to a woman named Gwenda who is involved in a two-spirit program with Gignac at the Native Friendship Centre.
Gwenda led the parade alongside other Indigenous members of the community, which included two Cree families. Among the various activities and kiosks at Parc Albert-Dumais on the Saturday afternoon was a performance by three traditional Indigenous dancers who, like Jérôme, received a gift of tobacco from the organizers. Gignac said they intend to have more Indigenous performers next year when they have an adequate budget to compensate them.
"We do our Pride with zero dollars," Gignac explained. "For next year, a lot of companies from the [Gay] Village in Montreal gave us dollars to do a bigger Pride. One day, we think we can be the third biggest Pride in Quebec."
Despite financial limitations, Gignac said the weekend's highlights included the "perfect" drag queen show at La Cabane, which was sold out weeks in advance, and the general enthusiasm of attendees at every event. A particularly special moment for him was witnessing a trans Anishnabe woman, who is a member at the Friendship Centre, marching on Friday with all of her family.
"That was one of my favourite moments at this walk," Gignac shared. "I've been working at the Friendship Centre for six years and I've seen the transformation of that woman. I was so happy and proud to see her walking with her family and being proud of who she is."
The Val-d'Or Native Friendship Centre is an award-winning cultural anchor for First Peoples, with a wealth of community services, lodging and special events. Their program for two-spirit people includes self-care, mental health support, beading and other activities, with the goal of improving attitudes and connections while reducing prostitution.
"Val-d'Or is more open-minded than before, but we still have work to do," asserted Gignac. "We need to continue on this way because when you stop talking about your rights, it's the moment when people become more close-minded, it's the moment that the government cuts your rights."
Gignac believes that attracting more people to Pride events will help overcome inherited biases and show that 2SLGBTQ people are just normal members of society. For now, he's happy to enjoy the inaugural event's success, proud of his community and everyone who participated.
"Val-d'Or was truly not prepared for us, but we were prepared for Val-d'Or," Gignac exclaimed. "I hope you will come to see us next year!"