After a week of escalating blazes near Wemindji, the community's access road and the Billy Diamond Highway between kilometres 390 and 590 were closed August 14. With severe fires reaching near the roadside, the situation was to be reassessed daily to seek safe windows for essential travel.
"Fires 602 and 601 along the Billy Diamond Highway are reaching dangerous levels of intensity due to the lack of rain in the last week with no rain forecast until [August 17]," stated the Grand Council of the Crees. "High winds mean that the fire, which is within metres of the road can move quickly, seriously threatening the lives of any travellers in the area."
As Fire 602 had grown to out-of-control status with numerous hot spots and heavy smoke, SOPFEU was using Wemindji's access road as a staging area for ground and aerial crews. The fire later crossed the road around km 92 to 94. Before it was fully closed, checkpoints had been established at km 14 and at the Billy Diamond Highway intersection (km 518).
Extremely dry conditions and high winds gusting from the northeast up to 30 km/h were feeding the flames, blowing hazardous smoke across James Bay to communities in northern Ontario. With air quality worsening, Wemindji residents were advised to close windows and turn off their air conditioners and Life Breath ventilation fans.
The province's forest fire prevention efforts were temporarily paused in some areas as ground firefighters can only attack fires up to Class 2. Water bombers can be used for fires between Class 2 and 4, while anything greater requires waiting for rain.
"The fires were too intense, even with water bombers," explained regional fire marshal Lee-Roy Blacksmith. "It was Class 6. Anything above Class 4, there's nothing that SOPFEU can do. When they pour water, it doesn't have any effect on the fire. During the weekend, SOPFEU couldn't fly out because the flight ceiling was too low."
On August 14, traffic was also restricted for essential services, humanitarian reasons and for residents returning home on the community access roads for Waskaganish and Eastmain, the Billy Diamond Highway from km 394 south to km 50 and the Trans-Taiga Road LG-3 East.
Although the fires didn't pose an immediate threat to Wemindji at press time, their swift progression meant that community evacuation remained a possibility. Blacksmith told the Nation that winds were currently in their favour and the regional operational committee was holding meetings at 3pm each day to monitor the latest conditions, determining the status of road closures and whether convoys may be organized to secure essential services.
As more land users have been able to visit their bush homes, stories have been shared about both the immense devastation and Cree resilience. Jayden Shecapio-Blacksmith from Ouje-Bougoumou expressed admiration for his uncle Robert Shecapio-Blacksmith's positivity, planning for future restoration after about 70% of his trapline burned to the ground.
Rebeka Tabobondung, founder of Muskrat Magazine, looked at the big picture after fires forced the cancellation of a festival in Chisasibi she planned to film in July. She was inspired by the midwives and birth assistants who sprang into action to care for clients not evacuated from the community.
"The Cree people here are among the strongest, kindest and funniest people I've ever met," Tabobondung posted. "A few expressed a prophesy of fires bringing the people together and the best berries to come. For years and years, Elders have been warning us about this time and they always advise learn our old ways of being self-sustaining and community-minded – don't rely on outside institutions for survival."
As the extraordinary season of wildfires continued to play havoc with summer events, the regional healing conference planned for late August in Wemindji was moved to October. With hot spots flaring up by Lake Jolliet and roads near Old Nemaska, the planned community gathering at the community's former site was rescheduled from August 28 to September 10.
Kenneth Tanoush, director of the community's department of land and sustainable development, thanked the workers who had helped maintain and protect the Old Nemaska site. Organizers announced that the boat is ready to sail during weekends leading up to the gathering.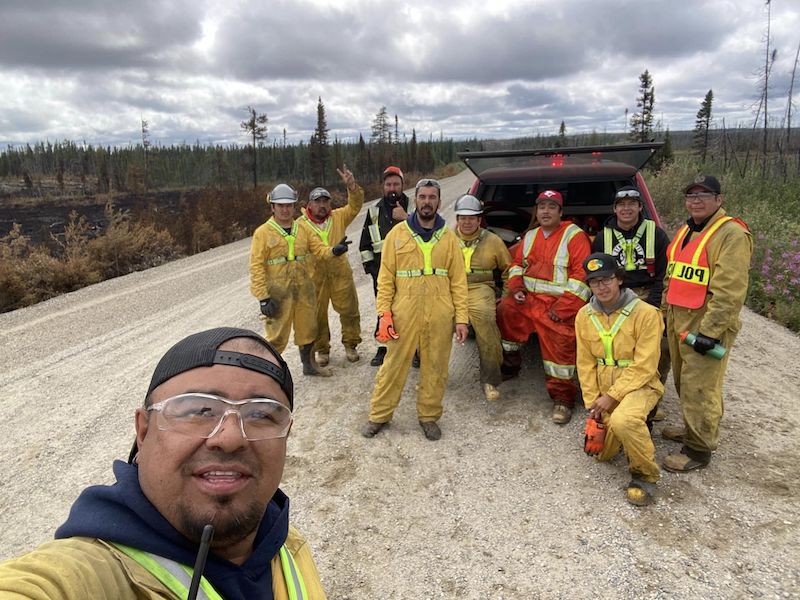 Nemaska was the focus of a recent New York Times article about the summer's wildfires and repeated evacuations, highlighting personal struggles such as Elder William Wapachee's hospitalization for smoke inhalation after an 11-hour bus ride to Quebec City. Photographer Lloyd Wright thanked tallyman Abel Wapachee for showing the reporters a firewall built to protect the old settlement.
Nemaska fire chief Kurtis Black told the Times that he didn't think the fires would stop until everything is burned: "These fires are here to stay until fall gets here – or the snow."
Blacksmith said fires have been burning through the roots of trees, requiring digging up still smouldering earth to extinguish them. Ground fires are less accessible and riskier to firefighters as they can make the earth unstable for heavy equipment.
Recent research reveals that so-called "zombie fires" can smoulder underground through Arctic winters then reignite when temperatures rise in early spring. This phenomenon is exacerbated by climate change warming the Arctic nearly four times faster than the rest of the world, longer periods of extreme heat, reduced moisture in soils and more frequent fire-causing lightning strikes.
"SOPFEU is saying the fire has gone two feet underground so it's possible if they don't put it out, they might have an early season of forest fires next year," said Blacksmith. "They might regrow from the bottom."
by Patrick Quinn, Local Journalism Initiative Reporter