Major junior hockey fans in Eeyou Istchee will have another homegrown hero to cheer for next season. Israel Mianscum will make the leap to the Quebec Major Junior Hockey League after being selected 10th overall by the Sherbrooke Phoenix at the 2019 QMJHL draft in Quebec City June 8.
Mianscum, who enjoyed a belated 16th birthday celebration just days after joining the Phoenix, had been ranked 18th among the hundreds of prospects eligible to be taken at this year's QMJHL draft. And with good reason.
The six-foot, 194-pound forward enjoyed a breakthrough in his first season with the Amos Forestiers AAA Midget squad, potting 21 goals and 14 assists despite being limited to just 35 games by an early-season injury.
Originally from Mistissini, Mianscum first captured the attention of scouts with a torrid Midget Espoir hockey season with the Rouyn-Noranda Citadelles in 2017-18, filling the net with 29 goals and 27 helpers in just 29 contests, and earning an early nine-game audition with the Forestiers.
The youngster boosted his stock at the draft table with his recent performance at the Gatorade Excellence Challenge, a pre-draft tournament that provides top prospects with the opportunity to showcase their talents in front of scouts and executives from all 18 QMJHL teams.
Mianscum turned heads, powering the Québec-Bleu squad to this year's championship while racking up a tournament-leading seven goals and six assists in just five games to earn tournament MVP honours. That performance fueled considerable interest in him among QMJHL teams.
"I got cut from [Team Quebec] at the Canada Games, and I got frustrated by that," Mianscum told the Nation. "But I took it in a positive way and tried to prove everyone wrong. I worked hard, and I think I did prove everyone wrong at the tournament."
Indeed, there was no shortage of interest in the Mistissini boy who left home at 11 years old to pursue his hockey passion. No fewer than nine QMJHL teams took the time to interview Mianscum in the hours leading up to the draft, an exercise that introduced an unfamiliar layer of the stress to the process.
"I had nine interviews that day and I wasn't sure where I was going to go," Mianscum recalled. "It was a new process for me. But as the interviews went on, I got used to it, and did better at them. I had a good interview with Sherbrooke. I was interested in them, and they were interested in me. I hoped to go around 15th in the draft, and when they called my name at number 10, I couldn't describe the feeling, I was so happy because of all the sacrifices that my family made to get me this far."
Phoenix general manager Jocelyn Thibault is equally excited about what Mianscum can bring to the QMJHL's youngest franchise. According to Thibault, Mianscum has been on his scouting radar since his sensational season at Rouyn-Noranda, quickly becoming a player of high interest.
"Israel is not a complicated kid. He just wants to play hockey, score goals and win games," said Thibault, who also played junior hockey in Sherbrooke before embarking on a 13-year career as an NHL goaltender that included parts of four seasons with the Montreal Canadiens.
"He is highly skilled, has great hockey sense, skates well, and brings an edge to the game. But one of the most important things is his desire to win," he continued. "He reminds me of a teammate I had in the final year of my career with the Pittsburgh Penguins. Evgeni Malkin was just a young kid breaking into the league. He struggled a bit with language, but it was clear all he wanted to do was play hockey, score goals and win games."
Thibault sees the same qualities in Mianscum. "He plays a similar style of game to Malkin, and shows some of that same desire that sets players apart," he said.
According to Thibault, that desire was on full display at this year's Gatorade Excellence Challenge. But while the veteran netminder, who coincidently was selected 10th overall by the Quebec Nordiques at the 1993 NHL Draft, has high expectations for Mianscum when he makes his QMJHL debut next season in Sherbrooke, he also stresses the importance of player determining their own fate.
"We fully expect Israel to immediately step into a role next season, but it is all about how much he wants it. We have a great coaching staff here that respects the players and gives them a chance, but he is going to have to work for it."
That work has already begun, with Mianscum already making the move to the Montreal area to spend the summer training with Montreal Canadiens conditioning coach Pierre Allard, who operates an off-season hockey camp in nearby Sainte-Julie, Quebec.
"I need to get faster and stronger now that I'm going to be playing against older guys. And I have a lot of maturing to do too," said Mianscum.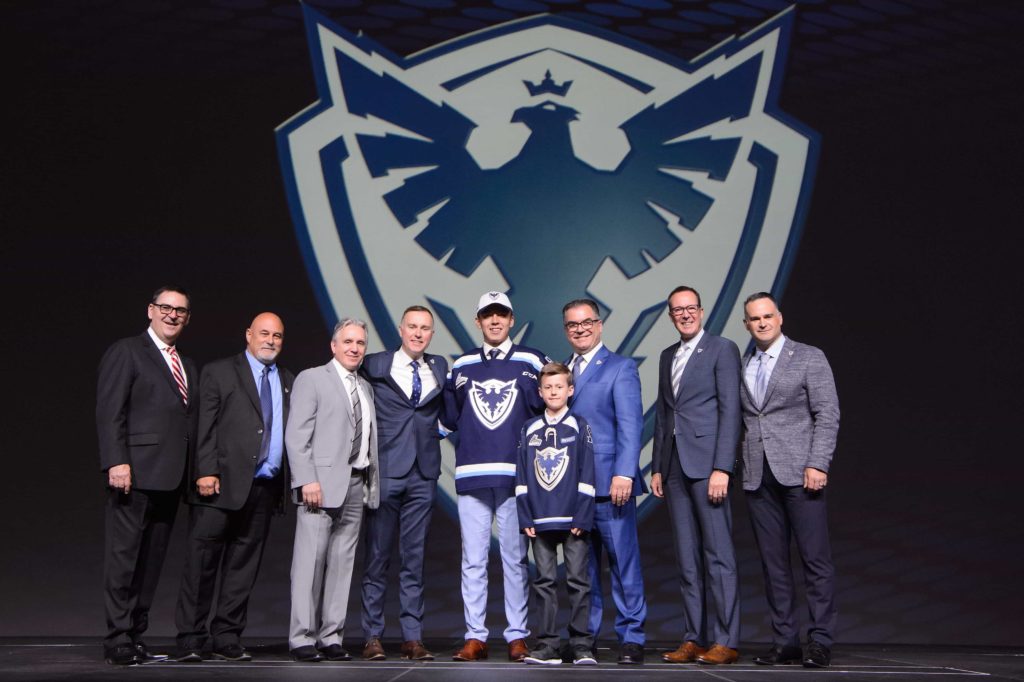 But for the budding hockey star, school also remains a priority. Mianscum is currently being home-schooled over the summer.
"School is a real challenge right now. I'll be carrying my books around all summer," laughed Mianscum. "I understand that school is important. But it's my mom who wants to make sure that I have a 'Plan B' if hockey doesn't work. I really don't know where I will want go with school. I'm just taking it a day at a time, and seeing how far I can go with hockey first."
While school may be the furthest thing from the mind of a teenager who is living the hockey dream, he remains well grounded, and understands the huge task that remains before him if he wants to fulfill his dream of some day playing in the NHL.
"I put on my first pair of skates when I was about two years old. And played for fun. Then, at seven or eight, I started to watch NHL on TV, and that's when it became a goal of mine, and still today it's a goal."